We're Your Best Choice for Tree Services
Backed by over 25 Years of Experience
Certified & Insured to Get the Job Done
The Right Tools Used for the Utmost Results
Free & Detailed Quotes Provided
100% Guaranteed Satisfaction
FOR 24/7 EMERGENCY SERVICE. CALL US IMMEDIATELY.
What Our Customers Say About Us
Real Reviews From Real Customers
50+ Reviews
4/02/2022
Reliable, fast and on time
Certified Tree Care crew made my family happy. The service was prompt and the job was completed faster than I imagined.
3/19/2022
Great Service
Excellent and professional people. They were a pleasure to have around. Troy was always keeping me updated as to their progress.
3/01/2022
Very Professional
They had the tree removed the same day the tree fell. They did such a good job, we hired them to remove other dead trees.
Certified Nashville Tree Service Experts
Serving Nashville County with Over 25 Years of Combined Experience
Certified Tree Care is a family-owned tree service with over 25-years of experience caring for the natural landscape of communities in Nashville & Davidson County. Our goal is to provide exceptional tree service to all residential and commercial clients looking to maintain or improve the natural surroundings of their homes and businesses.
How Can We Enhance Your Property
Certified Tree Care in Nashville
. Call Us Today For All Your Tree Service Needs.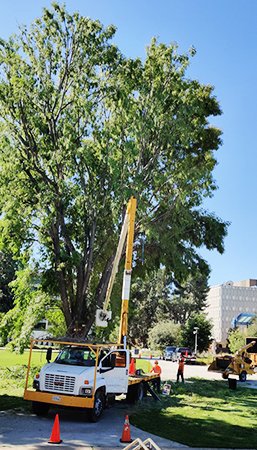 Your Certified Nashville Tree Experts!
Dedicated to Providing Our Customers with Exceptional Services
Certified Arborists
We always use the SAFEST tree removal Nashville methods for your property's safety, to ensure efficiency, and to promote safety! We strive to save every tree we can, but sometimes tree removal is necessary.
Safest Tree Removal Nashville Methods
We always use the SAFEST tree removal Nashville methods for your property's safety, to ensure efficiency, and to promote safety! We strive to save every tree we can, but sometimes tree removal is necessary.
Expert Tree Service Business
We are a local family owned and operated tree service and tree care company in Nashville, TN. We give you the promise of our hard work, dedication, and decades of expert experience.
Happiness Guaranteed
We provide professional and affordable tree care company for our clients. We'd love the opportunity to work with you and show why our exceptional service sets us apart from the rest.S
Tree Care Nashville Tree Service
Tree pruning helps boost your trees' health and also keep them looking their very best all year round. The tree care procedure gets rid of branches carrying health problems, ensuring that the disease does not spread to other parts of the tree.
Removing overgrown branches, pruning a tree improves its look, and hence the overall beauty of your home. Sawing off branches that are threatening to fall, tree pruning improves safety.
With decades of field experience, our team of professional tree pruners is capable of handling all types of pruning procedures. It does not matter whether the tree that needs pruning is a white pine with more than 150 feet of height or your goal is to prune a tree standing next to powerlines. We will handle the entire procedure safely, ensuring maximum benefits and zero property damages.
Why You Should Work With Professional Tree Service in Nashville Providers
Reasons to Work with Tree Pruning Professionals
When pruning a tree, investing in professional tree care services has a wide range of benefits, including:
1. You Avoid Injuries
Tree pruning is a risky procedure – you will be using sharp cutting tools at a significant distance from the ground. If you are lucky enough to avoid a fatal fall, you may suffer a deep cut. By handling the pruning procedure for you, professionals help you avoid these injuries.
2. You Avoid Property Damage
Pruning a tree involves cutting branches and then bringing them down. If you have buildings under your tree, branches may end up falling and causing damage to the buildings. When handling pruning, however, professionals will have ropes tied to the branches during cutting and machinery to help bring the limbs down safely without causing property damage.
3. You Save Time
Tree maintenance procedures can be time-consuming. Hiring professionals to handle the services gives you enough time to work on other important activities.
4. You Avoid Damaging Your Tree
If you cut the wrong branches from your tree or use the wrong cutting procedure, you may end up causing irreversible damage. With years of experience, professionals will prune your trees without causing damage.
Helping you avoid hospital bills and property repair costs, professionals save you a lot of money. The benefits offered by professionals outweigh the money you spend on the professional tree service.
While we do not recommend DIY tree pruning, it may be a good way to save money when you have small and non-risky trees in your home. However, to avoid causing tree damage when pruning a tree, you will need to keep the following tips in mind:
Have the right tree pruning gear – use a coarse toothed saw for branches with a diameter of 3+ inches and fine-toothed saws on branches with a diameter of fewer than 2 inches.
When cutting a branch, cut cleanly to avoid injuring the tree.
Cut between the branch collar and ridge to avoid cutting too close to the tree trunk or leaving a huge stub.
After cutting a branch, try to direct it to avoid breaking healthy branches.
Try removing branches with diameters of less than 5 cm. Those with diameters of more than 10 cm should be allowed to stay on the tree – however, remove them if it helps improve the health or safety of the tree.
If you are using the same tools on different trees, be sure to sanitize them. This will avoid the spreading of disease and pests from one tree to another.
2

Preventative Tree Pruning
Pruning a tree improves safety in the area surrounding the tree. This method of pruning is known as preventative as it helps avoid accidents. For example:
Removing weakly attached branches to the tree trunk prevents the danger of falling and injury.
Sawing off limbs that are blocking the visibility on pathways will allow bikers, drivers, and pedestrians to get a clear view. This will prevent accidents.