We're Your Best Choice for Tree Services
Backed by over 20 Years of Experience
Certified & Insured to Get the Job Done
The Right Tools Used for the Utmost Results
Free & Detailed Quotes Provided
100% Guaranteed Satisfaction
FOR 24/7 EMERGENCY SERVICE. CALL US IMMEDIATELY.
What Our Customers Say About Us
Real Reviews From Real Customers
50+ Reviews
4/02/2022
Reliable, fast and on time
Integrity Tree Removal crew made my family happy. The service was prompt and the job was completed faster than I imagined.
3/19/2022
Great Service
Excellent and professional people. They were a pleasure to have around. Troy was always keeping me updated as to their progress.
3/01/2022
Very Professional
They had the tree removed the same day the tree fell. They did such a good job, we hired them to remove other dead trees.
Certified Ridgetop Tree Service Experts
Serving Ridgetop County with Over 20 Years of Combined Experience
Integrity Tree Removal is a family-owned tree service company with over 20-years of experience caring for the natural landscape of communities in Ridgetop & Davidson County. As a reputable Nashville tree care provider, our goal is to provide exceptional tree service to all residential and commercial clients looking to maintain or improve the natural surroundings of their homes and businesses. Our professional staff is always ready to provide emergency tree service in case of a storm or any other situation that requires immediate attention. We offer free estimates and encourage clients to check our reviews to ensure they are making the best choice.
How Can We Enhance Your Property
Integrity Tree Removal in Ridgetop
. Call Us Today For All Your Tree Service Needs.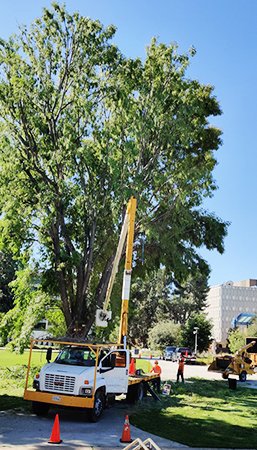 Your Certified Ridgetop Tree Experts!
Dedicated to Providing Our Customers with Exceptional Services
Certified Arborists
We always use the SAFEST tree removal Ridgetop methods for your property's safety, to ensure efficiency, and to promote safety! We strive to save every tree we can, but sometimes tree removal is necessary. Our tree removal services are handled by experienced professionals, ensuring the best possible outcome for your property.
Safest Tree Removal Ridgetop Methods
We always use the SAFEST tree removal Ridgetop methods for your property's safety, to ensure efficiency, and to promote safety! We strive to save every tree we can, but sometimes tree removal is necessary. Our tree removal services are handled by experienced professionals, ensuring the best possible outcome for your property.
Expert Tree Service Business
We are a local family-owned and operated tree service and tree care company in Ridgetop, TN. We give you the promise of our hard work, dedication, and decades of expert experience. To get started, simply schedule an appointment with us, and our staff will provide you with an estimate, along with detailed explanations of the services and price involved.
Happiness Guaranteed
We provide professional and affordable tree care for our clients. We'd love the opportunity to work with you and show why our exceptional service sets us apart from the rest. Remember to ask for our estimates and read our reviews to make an informed decision.
Tree Care Ridgetop Tree Service
In Ridgetop, most property owners have adopted the use of trees on their compounds to improve the aesthetic appeal. Trees, however, can turn into eyesores – this generally happens when they need tree pruning, tree trimming, or tree removal.
If you have trees that need trimming, pruning, or removal, you can count on our team to handle these services for you. Our tree pruning Ridgetop procedure will remove branches carrying health problems from your tree, tree trimming will improve the tree shape and appearance, while tree removal will remove trees featuring safety risks from your home.
Serving both commercial and residential properties, we have the expertise and knowledge necessary to handle all your tree service needs. With modern tree service gear and a team that is always willing to listen to all your needs, we guarantee 100% satisfaction.
Why You Should Work With Professional Tree Service Ridgetop Providers
Benefits of Hiring a Professional Tree Service Provider
Working with professional tree service providers offers a wide range of benefits. Below, we have outlined the major benefits:
Helps You Avoid Injury
Most tree services are dangerous – for example, attempting tree removal puts you at the risk of losing your life or suffering broken limbs if the trunk falls on you. If you fall from a tree during pruning or trimming, you may end up with significant injuries. Working with professional tree service providers keeps you away from the service zone, allowing you to avoid injuries.
Professional Tree Service Providers are Efficient
Expert tree service companies specialize in delivering a professional job, much more efficient than your DIY. If you don't have the right tools, grooming trees may take hours from your precious time. That is why hiring professional tree service providers ensures that the people working on your trees know what they are doing – where you find the job difficult or exhausting, tree service experts will make it look easy.
Convenience
Taking the weight of your tree maintenance can be a demanding task. For example, digging out a tree stump could take days. Trimming a tree could take hours. Working with professional tree service providers helps you save all this time.
You Avoid Property Damage
If you are trimming a tree alone, branches could fall on your house or utility lines causing damage. When handling tree removal, the tree trunk may get out of control and fall on important structures. With modern machinery, professional tree service providers can rope down branches and also control the direction towards which a tree falls during tree removal.
They Handle the Cleaning
Professional tree service companies will not only handle tree services safely – they will also clean your yard efficiently. They will save you the trouble of cleaning sewers, utility areas, buildings, and sidewalks. Tree service providers will leave your home better than they found it.
Top Rated Tree Service Ridgetop
Any living thing has a limited lifespan – this means that trees do die once their lifespan runs out. The best tree service to use when you have dead trees on your compound is tree removal.
Sometimes you may need to add amenities to your home. However, a tree may be standing in your way. Our Ridgetop tree care team is ready to provide you with estimates and discuss your needs, all while ensuring a professional experience backed by excellent reviews. Tree removal Ridgetop, in such a situation, can help you create the space you need.
A tree service also comes in handy when a tree is being a nuisance. In the past, we have used the tree service on trees that kept dropping branches unexpectedly, making properties unsafe.
It does not matter whether your tree is taller than 150 feet or it is surrounded by houses and other trees. We will always handle the tree service safely, removing the tree without causing damage to your home or the neighboring areas.
To make properties safer in Ridgetop, we offer the tree pruning Ridgetop service at an affordable cost. Through tree pruning, we can remove branches that are threatening to fall – this keeps them from falling on your house and causing damage or falling on someone and causing injury.
Tree pruning also helps boost the health of a tree. Most health problems affect a tree limb by limb. If you catch a health complication early enough, the tree service can help you saw off the affected branches, keeping the disease from spreading to other parts.
Pruning trees also helps clear up roads and pathways. By increasing visibility, the tree service minimizes the possibility of accidents.
Trees do lose their shape over time. Also, it is not uncommon for trees to have dead branches on their crowns. Both conditions make the trees look an unappealing – when this happens, your property losses value.
Lucky for you, you can improve your property's value through tree trimming. This tree service involves sawing off all branches that affect your tree's appearance negatively.
In addition to getting rid of dead branches, tree trimming will remove branches messing the tree shape and branches that are blocking the view of the surrounding areas. Working with our tree trimming Ridgetop team gives you a tree that complements your landscape.
4

Emergency Tree Removal Ridgetop
This tree service is crucial for people who would like to improve their safety immediately. It is often required when trees are threatening to fall on houses, powerlines or other utilities. To eliminate the possibility of expensive home repair costs and/or injuries, the tree service has to be handled without delays.
Our emergency tree removal Ridgetop team works around the clock – that is, on a 24/7 basis. If your tree is threatening to fall on your home at midnight, early in the morning, or late in the evening, do not hesitate to reach out to us. Our emergency tree removal line is always open – we will arrive at the desired location within the shortest time possible.
5

Ridgetop Arborist Services
Just like human beings require medical checkups by a doctor, trees do require checkups by an arborist. An arborist Ridgetop can figure out what health problem is bothering your tree and which medications you can use to treat it. If your tree is suffering from pests, our team of arborists will help you determine which pesticides should work for the tree.
Our team of arborists helps Ridgetop property owners determine which tree species will work well on their properties and how to plant these to increase their health and growth rate. Arborist tree service will help you determine why your tree is not growing as it should be – for example, why is it growing out of order. Arborists will help you with tree fertilization, and will also help you determine which branches to get rid of when conducting trimming or pruning.